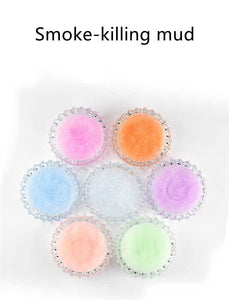 R-move smoke extinguisher
Regular price
$10.00
Sale price
$15.00
Unit price
per
1,Non-toxic Advantage: The smoke removal gadget is non-toxic, non-irritating, non-polluting polymer materials.
2,Easy to Clean: The gadget is easy to clean, which will be without leaving waste of smoke. When cleaning, you can directly pour the colloid and cigarette into the trash can.
3,Water Absorbent: The gadget can mix with water to be the colloid stuff to quickly eliminate smoke, absorb carbon dioxide, purify the air, and can stick to the soot, which is convenient for cleaning without residue.
4,Pollution Prevention: When the ash is put on the sheet-shape cleaning gadget, the ash is stuck due to its sticky property, and the ash will not fly around and cause secondary air pollution.
5,Odor Removal: The smoke removal gadget can quickly extinguish cigarettes, absorb soot, purify odors, and prevent smoke from human damages caused by allergies or breathing problems.
Specifications:
Material: polymer
Weight: about 2.5 grams
Fragrance type: seven flavors (random delivery)
Form: granular
Expiration date: 24 months
Function: extinguishing smoke and decontaminating, purifying air
Notes:
1. Keep the gadget away from children to avoid children may eat it accidentally.
2. If the gadget stains your eyes, please rinse them with plenty of water.
3. Avoid prolonged contact with the air to avoid water loss.
---
Share this Product
---